Location
The Netherlands

Industry
Dredging
Rapid Response 
Quick, flexible service minimizes production loss, ensuring trouble-free pump operation until the next maintenance.



Tailored Maintenance Strategy
Development of tailored maintenance strategies, focusing on client needs and equipment to maximize efficiency and minimize downtime.



Efficient Inventory Management
Spare parts inventory management, replacement of necessary parts on-site, and eliminating large stock orders for clients.



Informed Decision-Making
Comprehensive reports enable clients to make informed decisions, covering spare parts status, maintenance actions, and improvement measures.


Operator Training and Support
Providing training and support to plant operators for smooth operation and maintenance of pumps.

Challenge
A prominent dredging mill that uses nine Linatex® and two Warman® pumps to wash and separate different kinds of sand faced significant wear on their pumps due to the large amounts of crushed material used. The wear led to a shutdown every two years for pump inspection and refurbishment. When a 300/250 Linatex® IIIr pump unexpectedly failed on a Friday evening, the mill required an urgent and flexible solution to minimize production loss, which led them to seek assistance from Vaikon.


Challenge
Vaikon's quick response sent a service team on-site the very next morning, ensuring the pump could run trouble-free until the next maintenance period.

The customer recognized Vaikon's added value and handed over the maintenance of all pumps for the upcoming shutdown. Vaikon created a thorough plan and brought all the necessary equipment, tools, and spare parts suitable for the Linatex® and Warman® pumps to unburden the customer. Vaikon replaced only the necessary parts and provided the customer with a detailed report on the status of spare parts, future maintenance actions, and improvement measures after the on-site refurbishment.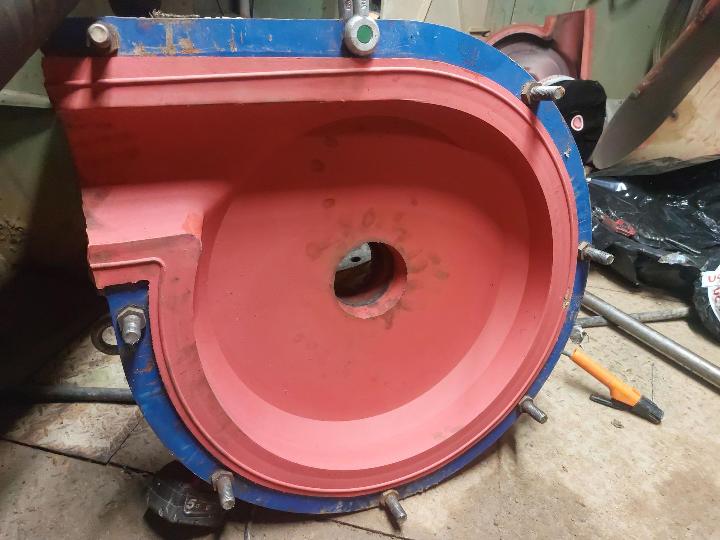 Result

Vaikon's tailored approach and skilled maintenance service minimized downtime for the dredging mill. Four weeks after commissioning, our team performed a maintenance check-up and provided training to the plant operators. The mill experienced a trouble-free running period until the next scheduled shutdown, ensuring no production loss and leaving the customer highly satisfied with Vaikon's service and communication.
Vaikon's experienced maintenance service and transparent communication ensure smooth operations and minimal downtime.

Trust Vaikon for efficient
pump refurbishment
and maintenance solutions. Contact our team today to minimize downtime and
maximize your operation's productivity.