Gromatex |
Hydrocyclones
Gromatex is a manufacturer of products designed to provide a long lasting but simple solution to containing and transporting abrasive fluids.
Gromatex specializes in rubber lining material of the highest quality.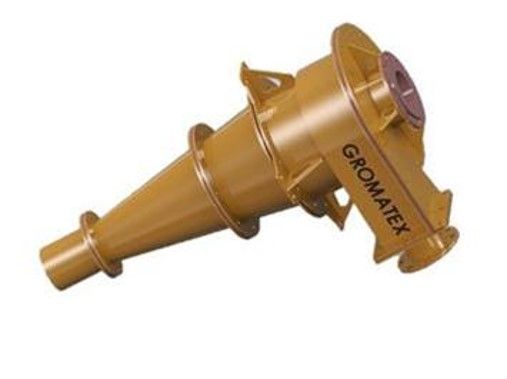 Range of cyclones
Containing abrasive fluids. Easy.
C15 hydrocyclone
The C15 hydrocyclone is currently the smallest in the Gromatex range.
C20 hydrocyclone
The C20 hydrocyclone is a medium sized cyclone of the Gromatex range.
Features
Tried and tested in the harshest applications globally.
Delivery time
World class lean manufacturing system in combination with a large and extensive stock of components provided by a flexible organisation.
Quotation speed
Vaikon provides a service guarantee wich includes a quotation time of maximal 24 hours after your initial inquiry.
Second to none quality
Gromatex are committed to the production of high quality assets at fair prices guarantying substantial savings in almost every incidence.