Location
Belgium
Industry
Stone Quarrying
Adaptable Mobile Pumping Solution
The mobile pumping system accommodates changes in water levels, ensuring consistent operation and reducing the risk of pump damage.


Efficient and Durable Pump Design
Minto® submersible slurry pump are designed specifically to handle polluted water and demanding conditions.


Easy Installation and Removal
Minto's pontoon solution allows for convenient installation and removal, providing the customer with a hassle-free water management system.


Prompt Delivery and Support
Vaikon's commitment to maintaining stock ensures quick delivery and efficient client support.
Challenge
One of Belgium's largest pebble quarries sought Vaikon's expertise to find an easily installable and removable mobile solution for draining a pond used in the classification process of raw materials.

The pump needed to move with the water surface to prevent it from becoming trapped in the silt, ensuring consistent water flow and minimizing the risk of pump damage.

Solution
Vaikon proposed using a Minto® pontoon, a standard solution that provides buoyancy for pumps weighing up to 300kg. After selecting a Minto® Vektor™ MDM150-1100-S2 submersible slurry pump, the pump was easily mounted underneath the pontoon. This durable pump is designed to handle the slightly polluted water found in the quarry pond.

The entire system is controlled by an automatic control unit that operates the pump from the quay through floats. Over one hundred meters of rubber-lined hose transport the water from the pond to the installation, ensuring a continuous supply for the classification process.

Vaikon delivered the products from their stock, providing the customer with a fast and efficient solution. The floating pump design prevents the pump from becoming buried in silt, reducing the chance of solids entering the pump and causing damage. The client can easily pull the pump to the bank for periodic maintenance, which enhances the pump's lifespan and minimizes downtime.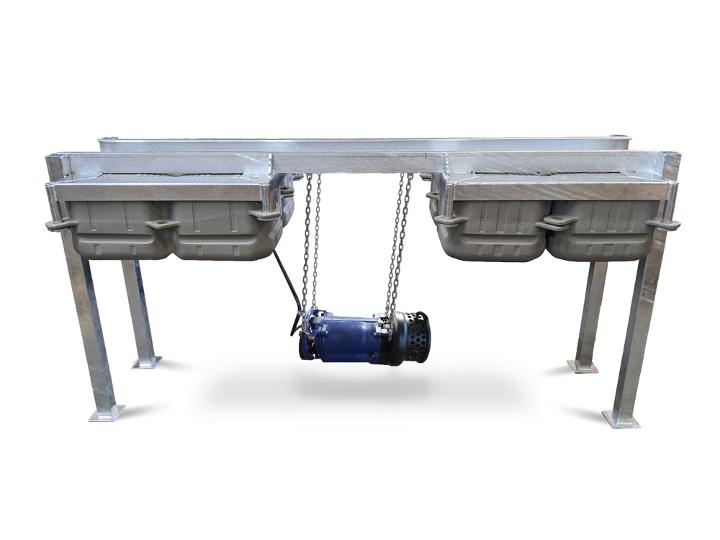 Result

Vaikon's quick delivery of an efficient, affordable, and easy-to-install mobile pumping solution met the client's requirements for a seamless and hassle-free water management system. The adaptable and durable system provided the quarry with reliable water management, ensuring seamless operation and enhanced pump lifespan.
Vaikon quickly delivered an efficient and cost-effective solution, taking into account ease of installation, use and maintenance.
Elevate your operations with efficient and mobile systems designed to meet your unique needs. Contact us today to learn more!