Location
Belgium
Industry
Soil Remediation
Laser Alignment
Precision in-house laser alignment for the pump-motor combination, ensuring optimal performance and longevity.


Dedicated Technicians
On-site installation and support by experienced technicians, providing reliable and professional assistance.


Screen Belt Press Know-How
In-depth knowledge of screen belt press applications ensures the best solutions for your dewatering needs.


Tailored Pump Solutions
Custom designs and assemblies for specific requirements, guaranteeing an optimal fit for your application.


Corrosion Resistance
Galvanized materials extend the durability of the pump system, protecting it against wear and corrosion.

Challenge
During periodic maintenance at a client's site specializing in remediating polluted sites and soils, Vaikon detected that the rigidity of a long-coupled water pump feeding a screen belt press had become inadequate. Screen belt presses are widely used in dewatering sludge and other materials, separating solids from liquids.

The pump's structural issue made it impossible to align the pump correctly. In addition to a general overhaul of the pump, the short-term goal was to deliver a pump-motor combination that could be easily aligned. Furthermore, it was crucial to make the whole system corrosion-resistant.

Solution
A rigid frame for a 40/25 normalized pump was developed and assembled in-house. Galvanizing the custom frame made it corrosion-resistant. The pump-motor combination was installed and laser-aligned at the customer's site, ensuring optimal performance and longevity.

Our dedicated technicians, with their expertise in screen belt press applications, installed the pump-motor combination on-site. After running the necessary commissioning checks, we commissioned the installation successfully.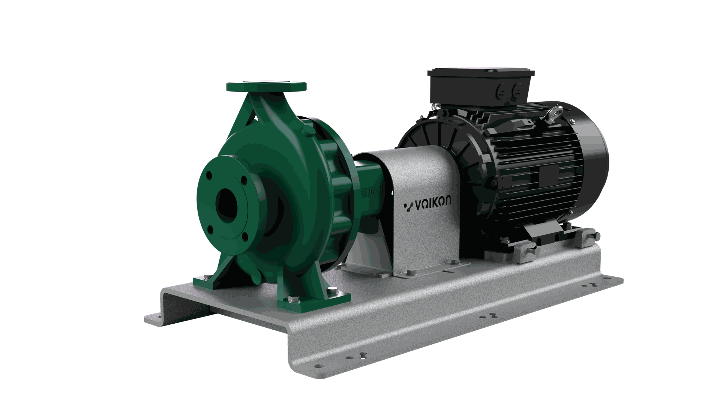 Result

Due to the attentive behavior of the service technicians during their inspection, the problem with the pump rigidity was identified, and an adequate solution could be found. The client appreciated Vaikon's ability to detect and address the issue during the shutdown. The screen belt press resumed operation with the newly installed, corrosion-resistant, and aligned pump-motor combination.
Vaikon has the expertise to identify problems during shutdowns and then solve them pragmatically.
Discover how we can optimize your screen belt press and other dewatering applications.