Location
Belgium
Industry
Quarrying
Laser Alignment
Precision alignment for pump-motor combinations ensures optimal performance and longevity, reducing vibrations and associated risks.


Quick Response
Prompt reaction and on-site support minimize downtime and disruption to your operations.


Expertise
Skilled service engineers have the know-how to handle complex alignment tasks in demanding environments.


On-site Support
Vaikon provides on-site assistance to address issues, ensuring the reliable performance of your pump systems.


Spare Parts Availability
Our large stock of necessary spare parts allows for swift repairs and maintenance when required.

Challenge
A global player in the extraction of raw materials reported severe vibrations and seal leakage in a main Warman® 8/6 pump at one of their quarries. Vibrations pose risks to the pump's performance, service life, and peripheral components, potentially leading to costly downtime and repair work. Within 36 hours of the call, two Vaikon service engineers were on-site, prepared to address the issue and adjust the pump motor shaft alignment and seal problems.
Solution
Vaikon's service engineers arrived on-site with the necessary spare parts and alignment equipment to handle the complex task. Tight alignment tolerances combined with a 1500kg pump and a 132kW motor made this a tricky endeavor.

They opened the pump to check the impeller for imbalance and replaced the shaft sleeve and necessary seal components. A laser alignment was performed to eliminate vibrations in the pump-motor combination.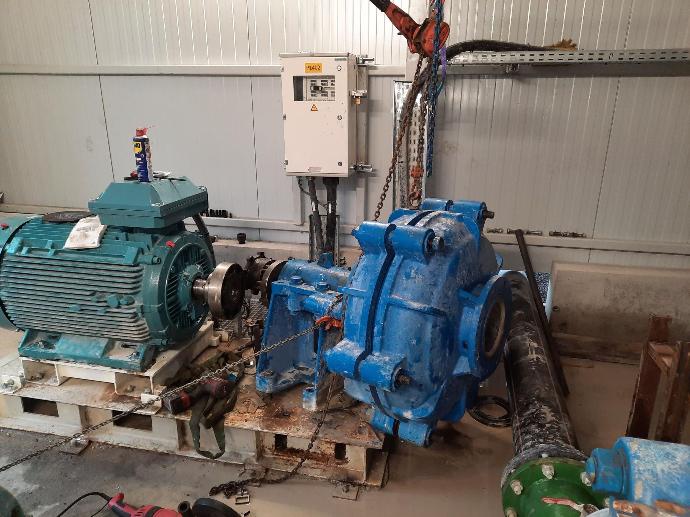 Result

After the alignment, the pump was successfully restarted by Vaikon's service engineers. It was evident that the interventions had been successful, as the vibrations were reduced to acceptable levels, and leakage of the seal had stopped.

The reduction in vibration levels not only led to better performance of the pump and motor but also significantly reduced wear on the equipment. As a result, the overall lifespan of the pump system was improved, and the risk of unexpected downtime was minimized, ensuring the continuity and smooth operation of the site.
By acting fast and arriving with the right skills and equipment, Vaikon was able to ensure the continuity of this site.
For pump alignment services and support, contact us today!